Books, lies and videotapes: in Yorba Linda, California, only the Nixon-lovers can hear you scream, as they buy gifts and even get married at the memorial library for the disgraced president
On 8 August 1974, Richard Nixon -- crazed, desperate, half-weeping -- made his final journey on Air Force One as president. He headed out to California, where he would spend the rest of his life trying to rebuild his reputation. Megatons of his energy were ploughed in to the building I am standing in front of now: the Richard Nixon Library and Birthplace in sunny, suburban Yorba Linda. It is a shrine to the most disgraced president of the 20th century -- and the worshippers have turned out in force today.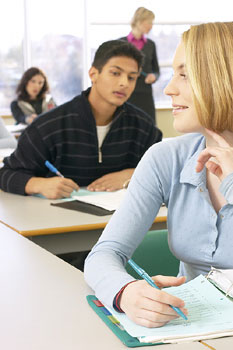 As you wander through the steel-rimmed doors, the first thing you see is the gift shop. A delightful range of Pat Nixon spoons spreads out before you, a bargain at only $2 each. (That's my Christmas presents sorted, then.) Memorabilia from Nixon's election campaigns fill the shop like some kind of inverse Aladdin's Cave. Here's a "vote Nixon" nail file, there's some Nixon family cut-out paper dolls. And topping it all, there is an immense poster that shows a grinning Nixon and carries only one word: "Dick". At first glance, it looks like the work of a satirical left-wing mole, but no, apparently it really was an election poster in 1960.
Books by hard-right US conservatives dominate the shelves. Pat Buchanan, Nixon's old speechwriter, has been here to flog his latest book, The Death of the West. It is says that the "white population" is not breeding quickly enough and will soon be "overtaken" by Hispanics and blacks, causing a "disaster" for the USA.
Nixon's face in portrait sits above a pile of the books. He smiles on, approvingly.
I hurry past the gift shop and its counter, staffed by women who are so extensively plastic-surgeried that it is impossible to guess their age. "Hi honey," they call, but I have scampered away. I am following the signs to Nixon's grave, where I plan to do a small, merry jig. A large gathering of fat tourists, however, stands directly in my path. Polite English coughs don't shift them, so I am forced to wade through this sea of flab.
As I jab and shove forward, I almost trip over something. I glance down, irritated. It is Pat Nixon's grave.
And next to it is another large black stone, which reads simply: "Richard Nixon, 19131994. The greatest honour history can bestow is the title of peacemaker."
An involuntary shriek of laughter erupts from my stomach. Five obese faces immediately focus directly on me. Thirty chins wobble with horror. I have no choice but to pretend that it was a wail of grief, and bury my head in my hands. "Don't worry, honey," a woman says as she rests a flabby hand on my back. "He had a great life." Her name, she explains once I have calmed down, is Angela, and she's travelled all the way from Idaho to be with Dick. "We just had to check it out before we booked it," she said. Booked, er, what? "Why, the Nixon centre. We're getting married here in November. We're getting married right over there." She gestures at a patch of very green grass not far from the grave. She waves a glossy leaflet at me. It says: "Do you want to book the Nixon centre for your wedding?"
I snatch it from her. People get married here every week, it explains.
"I don't know," her fiance, Joe, barks up when I demand to know why in the name of God they are doing this. "We always loved Nixon, and I want to feel that he's blessing our union, too. He believed in family and so do we."
So, I stammer, would you like your child to be like Nixon? "Oh, that would be lust great. That would be just the best." People like this are marrying here and -- heaven forbid -- breeding every week.
I stagger in to the first exhibit. Images of Nixon's rural childhood are everywhere. As you follow the trail of his life, the exhibit quickly brags of Nixon's involvement in the Alger Hiss case -- a McCarthyite witch-hunt that helped to make Dick's name. Wherever you run in the library, you hear Nixon's voice coming from one monitor or another. "We've called the puppy Checkers," you hear from one dark corner, and then from somewhere else, "The long, dark liberal night [Nixon meant liberal in the left-wing sense] is finally coming to an end in America." Nixon seems to be everywhere, waiting for you.
The library is keen to make capital out of Nixon's family life, with endless displays of Mother's Day cards and other paraphernalia of his home life. The exhibition discreetly fails to mention that his daughters -- Tricia and Julie -- now despise each other, and are locked in a lawsuit over who should control the presidential library. The exhibits are dotted with guest books containing questions such as "Was Nixon's journey to China worthwhile?" for visitors to answer. One asks: "Should the USA keep working for peace in the Middle East?" A visitor has scribbled: "Yes, we need cheap gas."
As I read this, Nixon suddenly barks from behind me: "There can be no whitewash at the White House." He was, of course, lying, and he has also organised a whitewash here, in his own library. This is the life of Richard Nixon as Nixon himself wanted it told, and Orwell's Ministry of Truth could not have done a better job. Nixon's crimes are very subtly rationalised, especially by constant, flattering comparisons with the Kennedy brothers. Presidents John F Kennedy and Lyndon B Johnson both secretly taped people in the White House, the exhibit stresses. Kennedy's father stole the 1960 election for his son by ballot-stuffing. The unsubtle message is: You thought Nixon was bad? In the context of his time, he was a saint. Similarly, the Vietnam war protesters are described as "a vocal, disruptive and violent minority".
Yup, don't listen to those dastardly liberals. Dick was just fine.
There has clearly been a tactical decision that Watergate cannot be ignored--so, instead, an entire corridor is dedicated to sanitising it. In a section clearly written by Nixon himself, the exhibit reads: "Watergate is a catch-word for every misjudgement, miscalculation or crime, imagined or real" made by the president. "At the time, commentators sought to portray Watergate strictly as a morality play, a struggle between good and evil...but what is clear now is that his political opponents ruthlessly exploited these misjudgements [sic] as a way to further their own, purely political goals."
The exhibit then crosses over from misrepresentation to outright deceit when it says everybody now agrees that "President Nixon was in no way connected with this 'third-rate burglary'", but only with the cover-up. The exhibit says that Nixon only withheld tapes "to protect confidentiality", and no reference is made to the notorious 18-minute gap. Nixon himself then appears on tape, dismissing Watergate as "apolitical shenanigan".
Watergate is thus cleansed -- and Nixon's crimes against humanity are simply not mentioned at all. Christopher Hitchens and Anthony Summers have both extensively documented how Nixon and Henry Kissinger deliberately sabotaged the Vietnam peace conference organised by LBJ in 1968. They used secret sources to let it be known to the South Vietnamese that they would get a better deal if they held out for a Nixon victory -- only for the war to continue for another five years, until Nixon settled on terms very similar to those originally offered in 1968. But a few hundred thousand deaths in the interim was, for this pair, a small price to pay for the presidency. Not only does the library not mention this, it actually states the exact opposite: "Nixon", it claims, "refused to play politics with the issue [of the halt to the bombing]."
The library has been carefully arranged, with images of Nixon hobnobbing with "respectable" US politicians: George (Sr) and Barbara Bush, Dick Cheney, Ronald Reagan. This is meant to reassure you that Nixon was clean, but the effect is to make you realise how complicit the entire American right was in the extraordinary crimes and misdemeanours of this lunatic. (And he was, by the way, literally a lunatic. Summers has proved that Nixon used Dilantin, a mood-altering drug prescribed for the treatment of epilepsy, as an anti-depressant, along with alcohol.)
Julie Warren, a sleek, middle-aged woman from LA, is sitting at the end of the exhibition, staring with admiration at clips of Nixon justifying himself. "You know," she says as I sit next to her, "I first came here back in 1996 after Clinton had just been re-elected and I felt so down. It just seemed that we were losing, and that everything Nixon stood for was in ruins, you know? But today, I feel great...Dubbya's popularity is really a vindication of President Nixon and what he stood for. I'm leaving here a happy woman today. Nixon is back." And in Yorba Linda, only the Nixon-lovers can hear you scream.